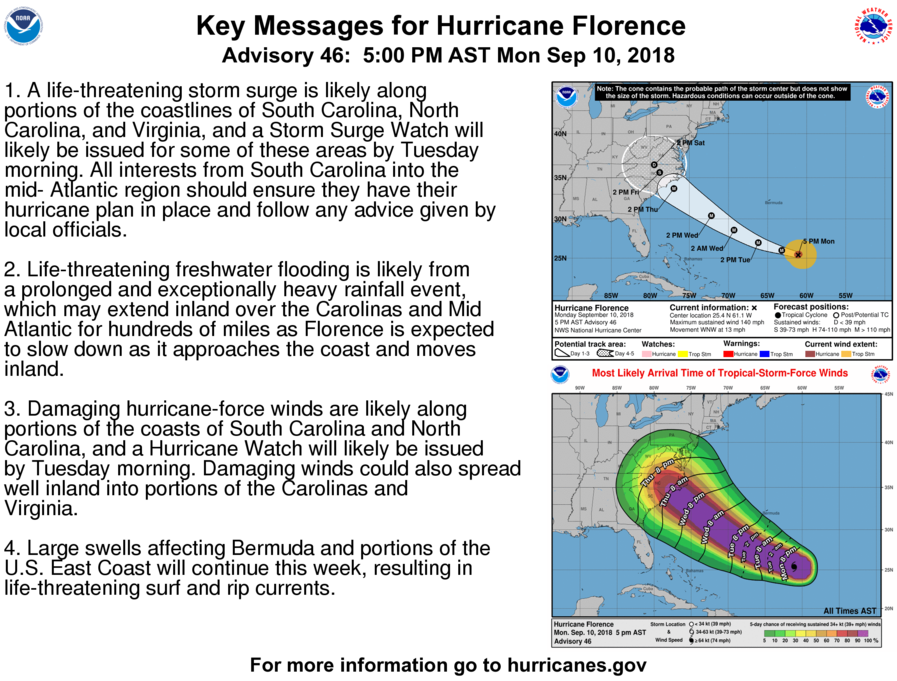 ---
Hurricane Florence restrengthens into an extremely dangerous Major Category 4 Hurricane as it heads towards the East Coast. Hurricane Florence is expected to make landfall somewhere around the South Carolina/North Carolina Coastline as a Major Category 4 Hurricane.
With low wind shear and hotter water ahead Florence could definitely strengthen into a Category 5 at this point. Florence will widen even more, as damaging effects will reach far from center. We could see historic surge for the east coast and very destructive winds then lingering flooding rains
This storm should be taken very seriously and everyone needs to prepare now, Hurricane Florence is going to be an extremely dangerous storm and you should not take it lightly AT ALL! The SC/NC area hasn't seen a Hurricane Like Florence since Hurricane Fran in 1996 which was blamed for 26 deaths in North Carolina and more than $7 billion worth of damage in 1996 dollars. Fran was regarded as a meteorological wakeup call for millions of North Carolina residents who had forgotten or never knew that a storm that slammed the coast could muscle its way more than 200 miles inland. Hurricane Florence is going to be much stronger than what what Hurricane Fran was.
"Unfortunately, the models were right. Florence has rapidly
intensified into an extremely dangerous hurricane, with 30-second
GOES-16 visible imagery showing well-defined eyewall mesovortices
rotating inside of the eye. A NOAA Hurricane Hunter aircraft found
peak SFMR winds of about 120 kt, with flight-level winds and
dropsonde measurements also supporting that value for the initial
wind speed estimate. Notably, the aircraft data also show the size
of the hurricane-force winds has doubled in the past 12 hours.

None of the guidance suggest that Florence has peaked in intensity,
and this is supported by a continuation of a low-shear environment,
and even warmer waters over the next 36 hours. Thus, the intensity
forecast is raised from the previous one, bringing Florence close
to category 5 strength tomorrow. Near landfall, the vertical wind
shear could increase, along with the increasing likelihood of
eyewall cycles. While the intensity forecast shows some weakening
of the maximum winds near landfall, the wind field is expected to
grow with time, which increases the storm surge and inland wind
threats. The bottom line is that there is high confidence that
Florence will be a large and extremely dangerous hurricane,
regardless of its exact intensity."

"It is important not to focus on the
exact forecast track as average NHC errors at days 4 and 5 are about
140 and 180 n mi, respectively, and dangerous hazards will extend
well away from the center."

– Statement issued by the NHC in the 5:00pm EDT advisory update.
Key Messages:
1. A life-threatening storm surge is likely along portions of the
coastlines of South Carolina, North Carolina, and Virginia, and
a Storm Surge Watch will likely be issued for some of these areas by
Tuesday morning. All interests from South Carolina into the mid-
Atlantic region should ensure they have their hurricane plan in
place and follow any advice given by local officials.
2. Life-threatening freshwater flooding is likely from a prolonged
and exceptionally heavy rainfall event, which may extend inland over
the Carolinas and Mid Atlantic for hundreds of miles as Florence is
expected to slow down as it approaches the coast and moves inland.
3. Damaging hurricane-force winds are likely along portions of the
coasts of South Carolina and North Carolina, and a Hurricane Watch
will likely be issued by Tuesday morning. Damaging winds could also
spread well inland into portions of the Carolinas and Virginia.
4. Large swells affecting Bermuda and portions of the U.S. East
Coast will continue this week, resulting in life-threatening surf
and rip currents.
THINGS YOU NEED TO KNOW:
Misconceptions about the NHC'S Cone.
When issuing forecasts the NHC uses what is known as the "Forecast Cone" or "Cone of Error" or "Cone of Uncertainty".
One misconception that has been going around with Hurricane Florence's Forecast Cone is that people are being misguided into thinking that Hurricane Florence will be much weaker when it makes landfall, that is NOT true! Hurricane Florence will still be an extremely dangerous Category 5 or 4 Hurricane when it makes landfall it will take time for it to weaken as it moves inland!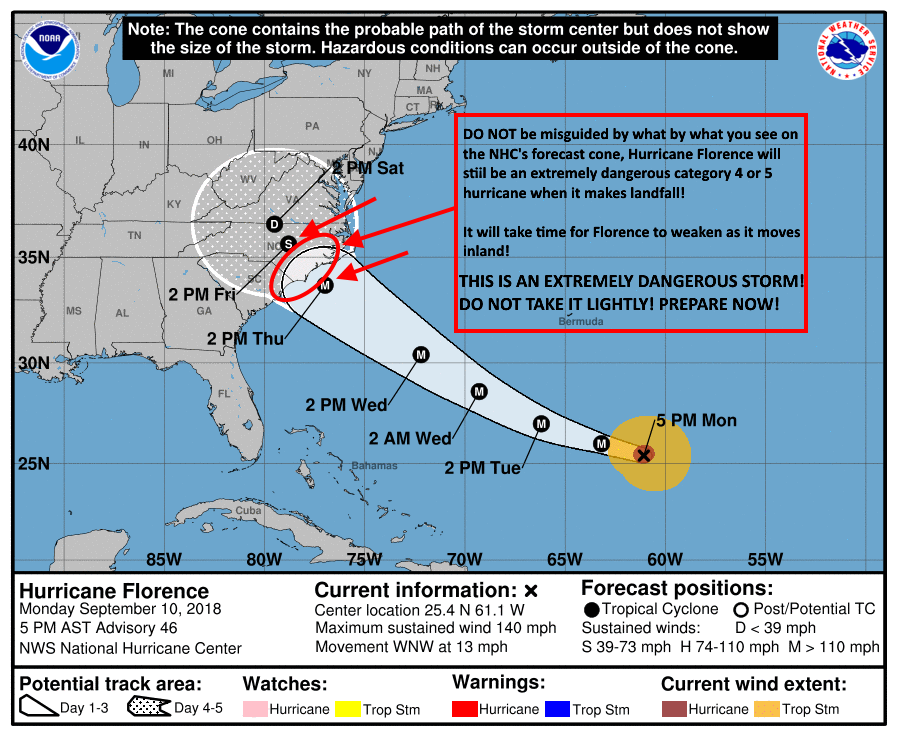 Another misconception with the forecast cone is that many believe that impacts are only limited to inside the cone when that is not the case. The cone only shows where the center or eye of a storm will go, impacts will be felt well outside of the cone.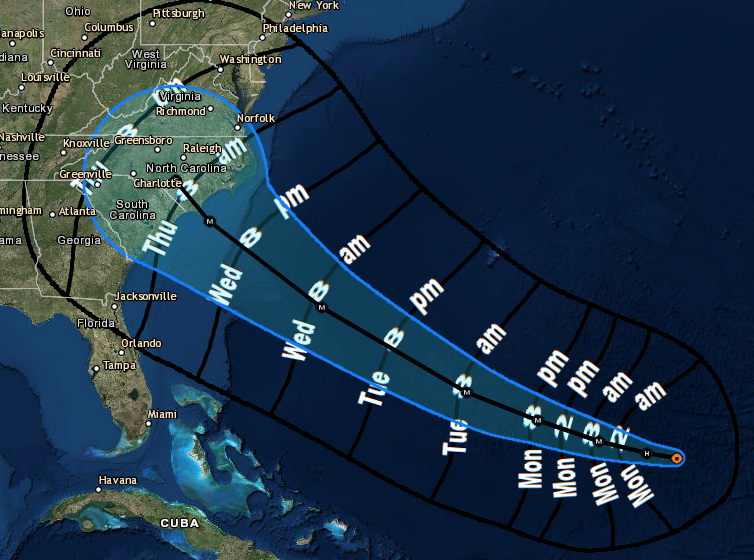 Here five important points to help you to better understand the "forecast cone:"
The cone represents the probable track of the center of the tropical cyclone.
The size of the cone is drawn so that about two-thirds of the time, the center of the storm will remain in the cone.
The cone does not take the size of the storm into account.
A hurricane is not a point; impacts often occur well outside of the core.
The cone indicates the forecast up to five days out from the last recorded position of the storm.
The cone only indicates a forecast track of a tropical cyclone. It doesn't indicate other information like potential storm surge, rainfall and any watches or warnings that may have been issued. Some impacts from tropical storms and hurricanes can be experienced hundreds of miles from the center of the storm.
If you can evacuate then EVACUATE! DO NOT TAKE THIS STORM LIGHTY, DO NOT BLOW IT OFF! IT IS AN EXTREMELY DANGEROUS STORM! THERE WILL BE EXTREMELY HIGH STORM SURGE, DAMAGING WINDS, AND HEAVY RAINS! This will not just be a coastal event this will be an inland event as well, IMPACTS FROM HURRICANE FLORENCE WILL BE FELT WELL INLAND!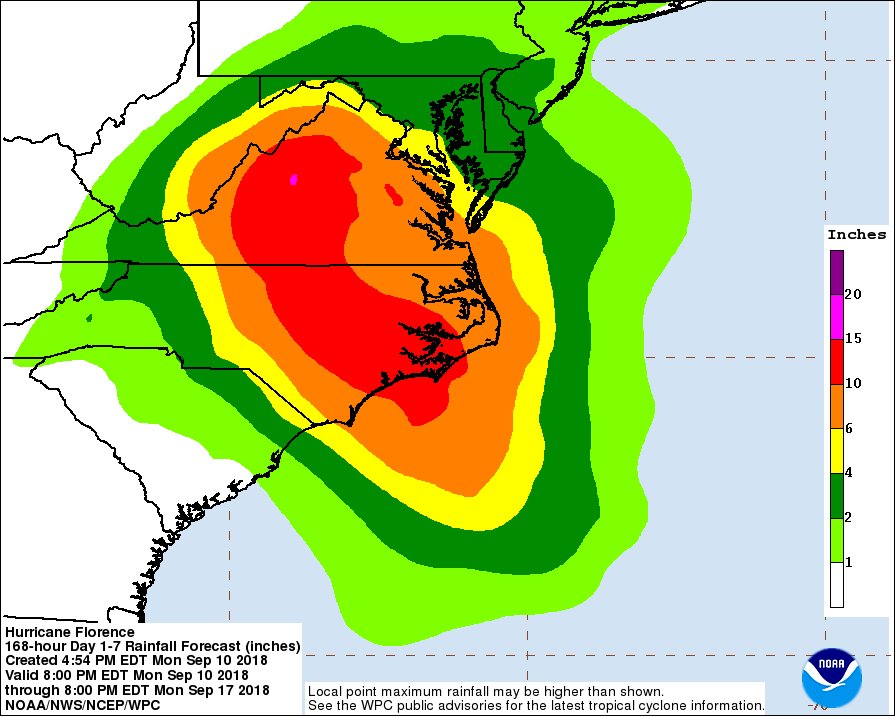 Mandatory Evacuations have already been issued for the entire South Carolina coastline.
"We know that this evacuation order is going to be inconvenient for some people," Gov. Henry McMaster, R-S.C., said in a press conference on Monday afternoon, "but we do not want to risk one South Carolinian's life."
Schools will be closed starting Tuesday in the affected counties and state officials will reverse lanes on four major roads leading to the coast to assist with the evacuation.
"We are not going to gamble with the lives of the people of South Carolina," McMaster said.
Evacuations include:
Northern South Carolina Coast (all zones)
• Horry County Evacuation Zones A, B, C
• Georgetown County Evacuation Zones A, B, C
Central South Carolina Coast (all zones)
• Charleston County Evacuation Zones A, B, C
• Dorchester County Evacuation Zones D, E, F
• Berkeley County Evacuation Zones B, G, H, I
Southern Coast (all zones)
• Colleton County Evacuation Zones A, B
• Beaufort County Evacuation Zone A
• Jasper County Evacuation Zones A, B
Evacuations have been issued for the Outer Banks of North Carolina, Just after 10 a.m., a mandatory evacuation was ordered for all visitors and residents on Hatteras Island,NC, effective at 12 p.m. Monday. A mandatory evacuation for residents and visitors in other areas of Dare County,NC goes into effect beginning Tuesday at 7 a.m.
An evacuation has also been issued in Virginia, Zone A, which includes the lowest-lying areas of coastal Virginia and the Eastern Shore. You can find a map of evacuation zones for VA here.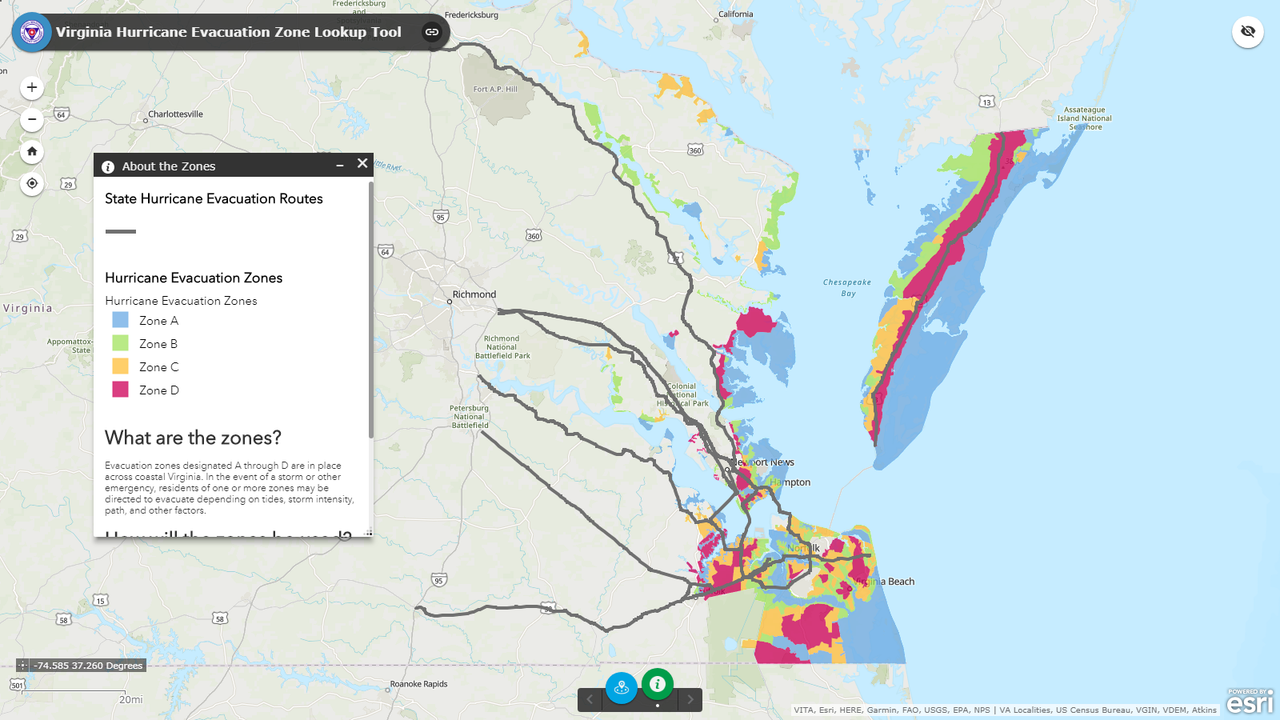 Even if an evacuation has not been issued for your area you should still evacuate if you can! It can not be stressed enough that you need to take this storm very seriously!
If you choose not to or can't evacuate then prepare a hurricane kit that should last several days as you will be without power and water for several days if not several weeks. You will most likely be stuck where you are at for several days before emergency officials will be able to conduct any rescues. Emergency officials will not be able to go out during the storm.
Gather what you'll need to shelter in place
Non-perishable food for 3 days
3 gallons of water per person
Manual can opener
Flashlight & extra batteries
Matches or lighter
First Aid Kit
Week's supply of prescription medications
Radio (battery operated or hand crank)
Books & games
Bring pets inside.
Prepare for power & water outages
Fill your bathtub with water to clean and flush toilets.
Turn your fridge to its lowest temperature.
Charge electronic devices.
Preserve cell phone battery life.
Stay away from low-hanging or downed power lines.
Stay inside until officials say otherwise.
Survive DURING
If told to evacuate, do so immediately. Do not drive around barricades.
If sheltering during high winds, go to a FEMA safe room, ICC 500 storm shelter, or a small, interior, windowless room or hallway on the lowest floor that is not subject to flooding.
If trapped in a building by flooding, go to the highest level of the building. Do not climb into a closed attic. You may become trapped by rising flood water.
Listen for current emergency information and instructions.
Use a generator or other gasoline-powered machinery outdoors ONLY and away from windows.
Do not walk, swim, or drive through flood waters. Turn Around. Don't Drown! Just six inches of fast-moving water can knock you down, and one foot of moving water can sweep your vehicle away.
Stay off of bridges over fast-moving water.
Be Safe AFTER
Listen to authorities for information and special instructions.
Be careful during clean-up. Wear protective clothing and work with someone else.
Do not touch electrical equipment if it is wet or if you are standing in water. If it is safe to do so, turn off electricity at the main breaker or fuse box to prevent electric shock.
Avoid wading in flood water, which can contain dangerous debris. Underground or downed power lines can also electrically charge the water.
Save phone calls for emergencies. Phone systems are often down or busy after a disaster. Use text messages or social media to communicate with family and friends.
Document any property damage with photographs. Contact your insurance company for assistance.
Remember, during a disaster what's good for you is good for your pet, so get them ready today.
If you leave your pets behind, they may be lost, injured – or worse. Never leave a pet chained outdoors. Plan options include:
Create a buddy system in case you're not home. Ask a trusted neighbor to check on your animals.
Identify shelters. For public health reasons, many emergency shelters cannot accept pets.

Find pet friendly hotels along your evacuation route and keep a list in your pet's emergency kit.
Locate boarding facilities or animal hospitals near your evacuation shelter.
Consider an out-of-town friend or relative

Locate a veterinarian or animal hospital in the area where you may be seeking temporary shelter, in case your pet needs medical care. Add the contact information to your emergency kit.
Have your pet microchipped and make sure that you not only keep your address and phone number up-to-date, but that you also include contact info for an emergency contact outside of your immediate area.
Call your local emergency management office, animal shelter or animal control office to get advice and information.
If you are unable to return to your home right away, you may need to board your pet. Find out where pet boarding facilities are located.
Most boarding kennels, veterinarians and animal shelters will need your pet's medical records to make sure all vaccinations are current.
If you have no alternative but to leave your pet at home, there are some precautions you must take, but remember that leaving your pet at home alone can place your animal in great danger!
Tips for Large Animals
If you have large animals such as horses, cattle, sheep, goats or pigs on your property, be sure to prepare before a disaster.
Ensure all animals have some form of identification.
Evacuate animals whenever possible. Map out primary and secondary routes in advance.
Make available vehicles and trailers needed for transporting and supporting each type of animal. Also make available experienced handlers and drivers.
Ensure destinations have food, water, veterinary care and handling equipment.
If evacuation is not possible, animal owners must decide whether to move large animals to shelter or turn them outside.
Build a Kit
Include basic survival items and items to keep your pet happy and comfortable. Start with this list, or download Preparing Makes Sense for Pet Owners-Emergency Preparedness Pet Kit List (PDF)  to find out exactly what items your pet needs to be Ready.
Food. At least a three day supply in an airtight, waterproof container.
Water. At least three days of water specifically for your pets.
Medicines and medical records.
Important documents. Registration information, adoption papers and vaccination documents. Talk to your veterinarian about microchipping and enrolling your pet in a recovery database.
First aid kit. Cotton bandage rolls, bandage tape and scissors; antibiotic ointment; flea and tick prevention; latex gloves, isopropyl alcohol and saline solution. Including a pet first aid reference book is a good idea too.
Collar or harness with ID tag, rabies tag and a leash.
Crate or pet carrier. Have a sturdy, safe crate or carrier in case you need to evacuate. The carrier should be large enough for your pet to stand, turn around and lie down.
Sanitation. Pet litter and litter box if appropriate, newspapers, paper towels, plastic trash bags and household chlorine bleach.
A picture of you and your pet together. If you become separated, a picture of you and your pet together will help you document ownership and allow others to assist you. Add species, breed, age, sex, color and distinguishing characteristics.
Familiar items. Familiar items, such as treats, toys and bedding can help reduce stress for your pet.
---
Side note: I've been hearing from people in SC/NC area that some meteorologist are not taking this storm as seriously as they should, I highly recommended you follow Mike's Weather Page, Mike's Weather Page has been the #1 trusted and reliable Tropical Web Page to millions since 2004.
You can follow Mike on Facebook, Twitter, and you can check out his site http://spaghettimodels.com for all the latest information on Hurricanes.