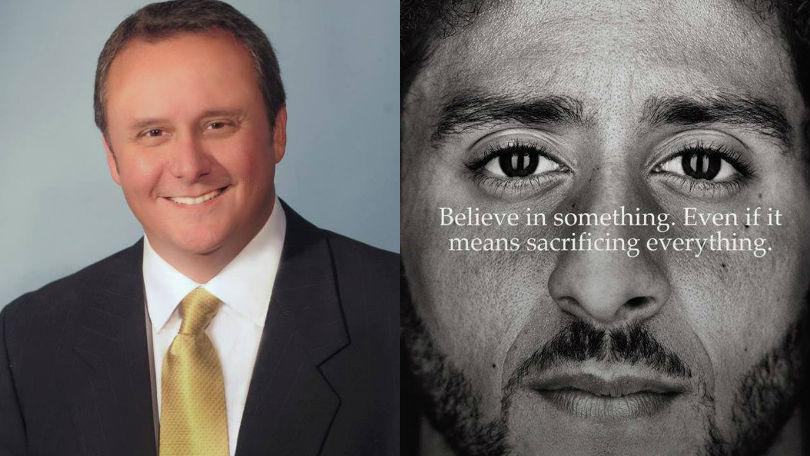 ---
Updated 9/12 @5:00pm:
Kenner Mayor Ben Zahn rescinded his controversial ban on Nike products, citing advice of the city attorney and the national controversy his decision sparked as reasons for reversing his stance, during a press conference earlier Wednesday (Sept. 12).
Zahn called the press conference amid growing uproar surrounding the city's controversial policy banning the purchase of Nike products by the city's booster clubs.
"Acting upon advice of the city attorney, I have rescinded my memorandum," Zahn said. "That memorandum divided the city and placed Kenner in a false and unflattering light on the national stage."
"My patriotism will not waver, but my focus needs to be on the city of Kenner and the many projects that we have," Zahn said. "Nothing can be allowed to distract us from that very important endeavor."
Zahn's decision came just hours after the American Civil Liberties Union of Louisiana challenged the mayor's ban, calling it a clear violation of the First Amendment.
---
Kenner Mayor Ben Zahn issued the following statement on Monday, September 10th in response to the memo forbidding booster clubs at the city's parks from purchasing Nike. Here is the complete statement:
"Private, for-profit companies have every right to advertise how they wish, even if it means using advertising to promote corporate political beliefs. Individuals also have every right to support or oppose any company or brand for any reason. Those freedoms should never be lost.
I applaud Nike's message of inclusion and encouragement for everyone to be their best and dream big. But I also recognize that Nike, in its zeal to sell shoes, chose to promote and sell a political message.
In Kenner, like every city, our citizens and our taxpayers cover a wide spectrum of political philosophies and agendas. We must respect all of those agendas and philosophies. So, when a company uses its advertising as its own political megaphone, government should be fair to all of its people and not allow taxpayer dollars to be used to help that company push its own political agenda.
My decision is only to protect taxpayer dollars from being used in a political campaign. Some have asked if people will be allowed to wear Nike apparel on city playgrounds. The answer to that is … of course.
My internal memo draws the line on letting companies profit from taxpayers by espousing political beliefs. My decision disallowing Nike from profiting from our taxpayers while they are using their powerful voice as a political tool is my message. This government will not let taxpayer dollars be used to promote a company's or individual's political position, platform or principle. That's my position as a matter of fairness to all."
Kenner Mayor Ben Zahn issued a memorandum demanding that the city recreation department and any booster clubs operating at its facilities no longer purchase or accept delivery of Nike athletic products or any apparel that features the company's famous logo.
The Sept. 5 memo to Recreation Director Chad Pitfield, which is being circulated on social media, was not made public by City Hall.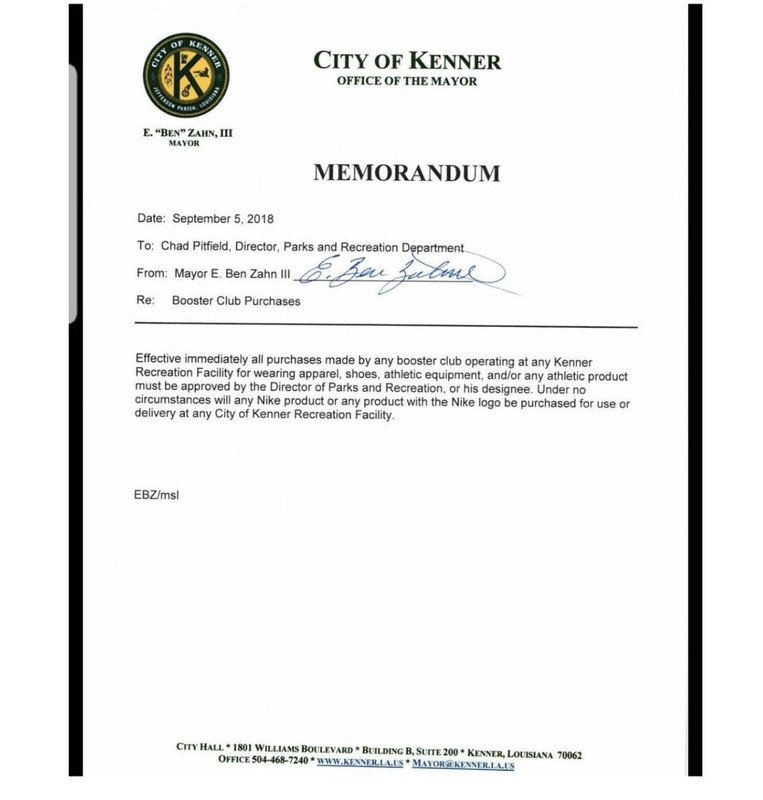 In response to Kenner Mayor Ben Zahn's memo banning Nike purchases and deliveries, Congressman Cedric Richmond (LA-02) released the following statement on Tuesday, September 11th:
"After reading Kenner Mayor Ben Zahn's memorandum demanding the immediate ban of Nike products for Kenner's recreational facilities, I knew I had to publicly address yet another politician for senselessly attempting to further divide our community," said Rep. Richmond. "We should take a moment to question why Nike is the top priority for a local politician when his residents face a variety of social and economic challenges. Mayor Zahn is imposing his personal beliefs onto Little League players, and I strongly oppose his stance."
"My beloved home state, to which I have had the privilege of serving for nearly 20 years, like many others in our nation, has its fair share of problems. Louisiana's educational system ranks 49th in the nation, our healthcare system ranks 47th in the nation, and Louisiana has one of the highest infant mortality rates at around 8%. I could go on with an additional list of challenges that all our communities and politicians face that we should collectively work together to solve, and that's why Mayor Zahn has no business imposing this policy onto innocent children."
"Nike is a multi-billion dollar global enterprise that has never contributed to the social and economic challenges in Louisiana. In fact, Nike donated more than 10 million dollars after Hurricane Katrina to build a stadium and track in Joe Brown Park for metro area children. Contrary to Mayor Zahn's belief, Nike is not running a political campaign. Using the current controversy surrounding Nike's support of Colin Kaepernick as an excuse to rob resources from those who need it most in Kenner is a clear sign of Mayor Zahn's pandering at the expense of the very children he is entrusted with guiding. It is shameful to divide such a close-knit community just for national political attention."
"Instead of playing petty politics to score cheap points to the detriment of Little League players, Mayor Zahn should be working on behalf of his entire community. I have long put people over politics and have a consistent track record of bipartisanship to bring people together. Kenner residents deserve better, and I support their use of all Nike products."
Kenner booster club president Owen Rey told WWL the policy "shouldn't be that way."
"If we have something that we feel that we want that's going to benefit our kids," Rey said, "it shouldn't matter what logo, what brand — as long as it helps the kids and what we're trying to accomplish at the park."
Kenner city councilman Gregory Carroll had harsh words Sunday in reaction the memo.
"I was not made aware of this decision beforehand and it is in direct contradiction of what I stand for and what the City of Kenner should stand for. I am 100% AGAINST this decision," Councilman Gregory Carroll said in a Facebook post. "I will meet with the Mayor and other Council members in an effort to rescind this directive. I will keep the citizens of Kenner, and the Greater New Orleans area informed as we move forward."
New Orleans councilman Jay Banks posted a photo to Facebook holding a Nike shirt outside the sportswear story.
"I was in church when I received a copy of the letter from the Mayor of Kenner. I have never felt a need to purchase one of these before but I am compelled now. Thank you NIKE!," Banks wrote in the Facebook post Sunday.
Nike recently unveiled its "Dream Crazy" campaign which found itself the subject of controversy after running a commercial featuring former NFL quarterback Colin Kaepernick, who triggered a wave of protests against racial inequality last year by kneeling during the National Anthem prior to games.
The Kenner memo says that, effective immediately, all purchases of clothing, shoes, athletic equipment or any other athletic equipment by booster clubs operating at city recreation facilities must be approved by Pitfield or his designee.